To begin day trading, you need to understand a few things:
1. Day trading is a difficult and repetitive job. It can potentially be very profitable, but it can also suck up your hard earned money quickly. There is also an abundance of day traders out there trying to pick up the same signals as you.
2. It's next to impossible to profit on your first deposit as a day trader. Even if you have $10000 at your disposal, I would still highly recommend opening a demo account and practicing for at least a month. Consider the virtual money as real money and practice your trading strategy during this time. Here is a free demo account with $100000 of virtual money to practice on.
3. After practicing on the demo account, you can make your first deposit! I would recommend taking $5000 first and trade relatively conservatively in the market at first. It is likely that you will lose your $5000, but you will gain valuable experience in day trading and how the market operates.
4. Only a small percentage of day traders can steadily profit in the open market and they all have years of experience. Just don't hold the expectation of profiting immediately after entering the day trading business because it is highly improbable.
With that said, day trading isn't impossible and utilizing the correct tools will increase your chances of success significantly. Here are some websites and applications that I recommend for you.
1. NEWS SOURCE
Depending on what you want to trade (stocks, currencies, futures), your news source may differ. For more general economic and world news, I recommend Bloomberg and the Wall Street Journal. These are excellent websites that have informed analysts and unbiased articles.
Seeking Alpha is a great place to hear some expert opinions and keep up with stock news in real time.
Yahoo Finance has detailed financial information for a lot of companies and excellent charts that are easy to read and simple.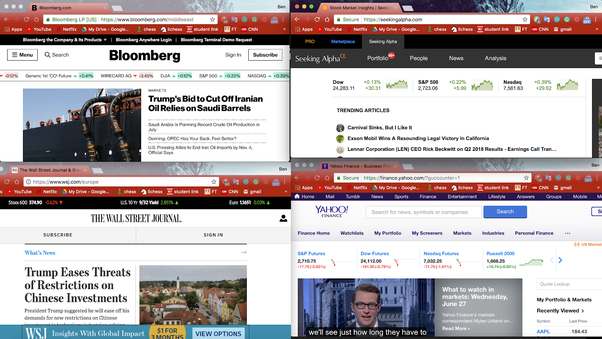 2. APPLICATIONS
Using AI to help your analysis is beneficial in many ways. It is not biased, makes no statistically errors, and is not affected by human emotion.
I recommend Bettertrader.co as a platform that uses AI to backtest (runs through similar situations in the past to gauge market reactions) and provide statistically accurate analysis for you to trade in real time.